Little Corn Island Hotels, Resorts, Bungalows, Cabins, Eco-Lodges & Hostels
Starting off the list below are some traveler-favorite lodgings as well as some of the higher-rated (on Trip Advisor & Booking.com) hotels on the island. Some are listed by location and type. There is something here on Little Corn for every style and budget, from backpacker-chic to full luxury.
---
Top-Rated Accommodations and Lodging
---
Little Corn Island Beach & Bungalow
Top rated on Little Corn Island, Little Corn Island Beach & Bungalow on Cocal Beach (east side) offers very clean, comfortable and charming "Rustic Nica Chic" cabins, in-cabin WIFI, luxury beds, private bathrooms, hot showers, eco friendly power, fans, sea breeze and waves, great peaceful location (13 minute walk to village) and lots of amenities.
The highly-rated Turned Turtle Restaurant is on-site. Talented staff promptly serves tasty and affordable food all day along with great Margaritas, Pina Coladas (many say the islands best!) and frozen Frappacinos. Private bath cabins as low as $69, shared bath, $39. (all prices quoted by LCB&B include IVA and hotel taxes, check with others when comparing) Click here to book see reviews (here) visit their website. Call +505 8923 2517.
---
Yemaya Island Hideaway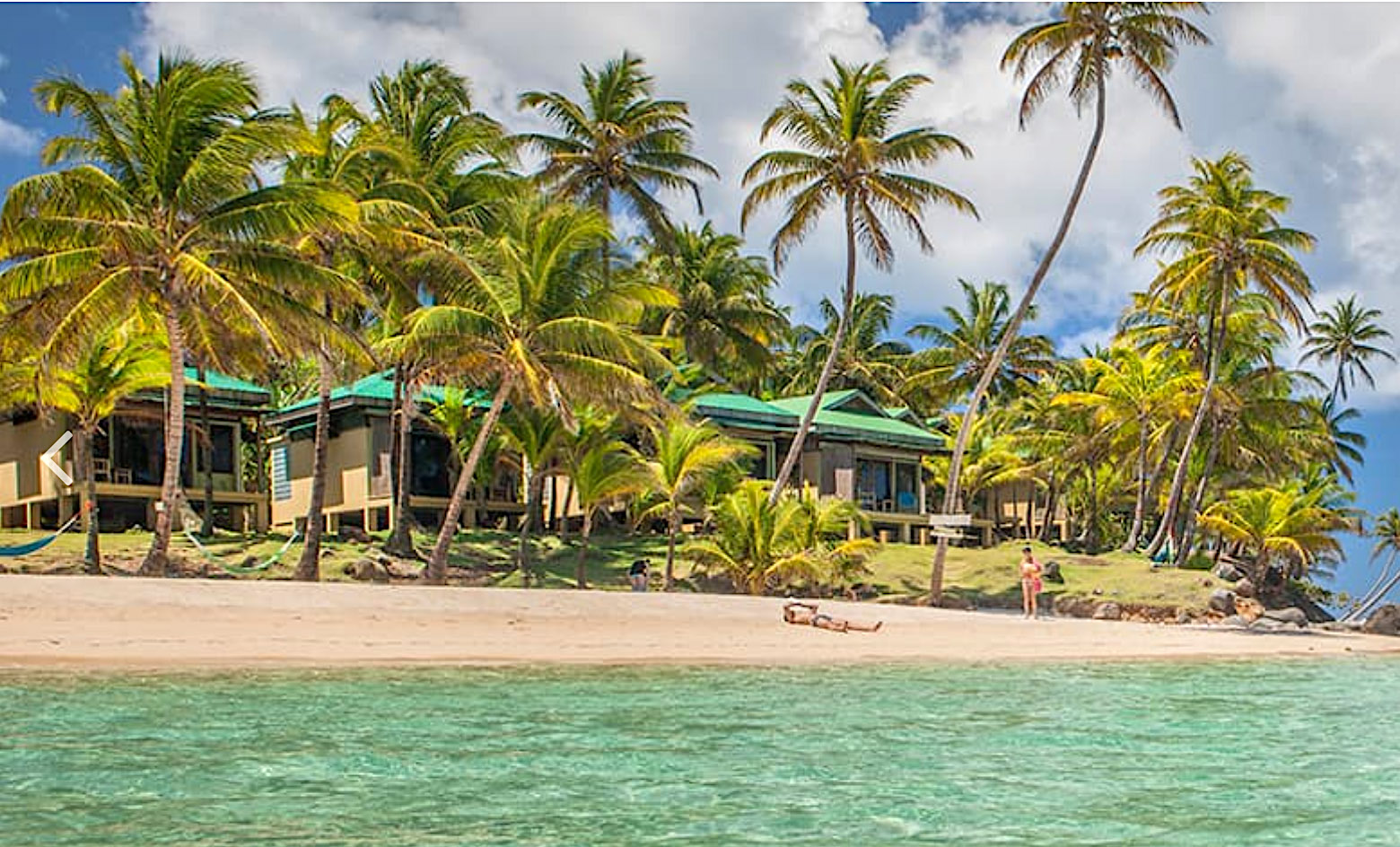 Luxury resort opened in 2013. 16 individual cabins, some with A/C and plunge-pools. located beachfront at the north end of the island. Also features first-class restaurant on-site, wellness facilities with yoga, massage, etc. Visit their website for booking or for more info.
---
The Lighthouse Hotel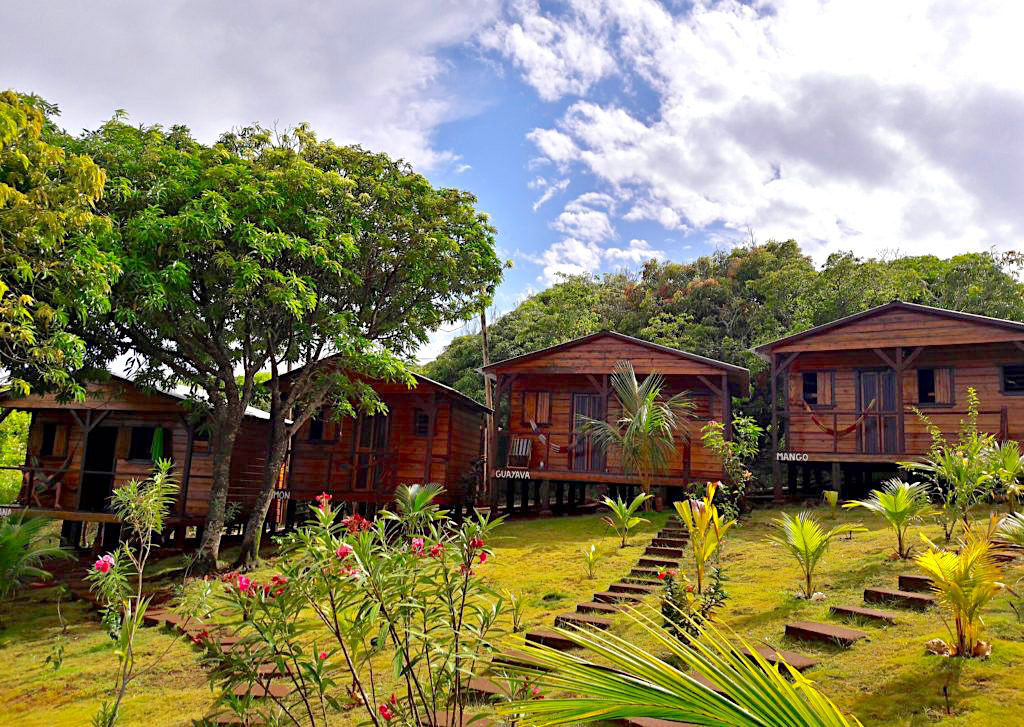 Rustic wood cabins, remotely located and set high up on a hill (be prepared for the steep hike) with some great views of the sea, between the village and the north-end of the island. Also with onsite bar and restaurant, popular for Taco Tuesdays & Barbeque Sundays. Private cabins are $35 to $45 for 2 persons, and dorms available, discounts for longer stays. Click here to book or visit their website or call +505 5723 2477.
---
Hotel Los Delfines
Located on the main path on the west side of the island, Los Delfines offers comfort and easy walk to local beaches, shops, restaurants, etc. Rooms have air conditioning, cable tv, private bathroom, free wi-fi. The hotel has a bar/restaurant on site offering a wide range of foods. Also has Dolphin Dive shop on-site. Rooms from $50 per night for single. Packages include 3 nights w/breakfast $130/$180 Single/Double. PLUS, discounts off above rates when you purchase a dive package! Click here to book or visit their website.
---
Near the wharf
---
Sea View (Hospedaje Vista Del Mar)
Located right next to the dock yet in a tranquil setting on a small headland these 12 rooms are owned and run by Mr. Winnie (the local Mayor) & Miss Sharon who live on-property. Some rooms feature a kitchenette. Prices from $20 per night and it's located right by the sea. Click here to book now, or you can call if you have more questions: +505 8847 7483
---
Christina's Guest House
Lovely 2 story building, easy to spot shortly after you turn left after the wharf on the main village path Prices as low as $10 per night (w/shared baths), and $23+ with private baths, and (some) with A/C, balconey, and an ocean view starting at $35. Some rooms feature a kitchenette, and 2 bedroom apartments also available. Right across from a nice village beach. Click here to book now and for exact pricing for the type of room you need. Or by phone on +505 8847 7483
---
Sunshine Hotel
An island favorite, and recently reopened! 13 air-conditioned rooms, and nicely located within the village, and a 1-minute walk from the wharf and to a nearby beach.
Rates $35-$65
Contact them at: Phone: +505 8836-4589 Email: Sunshinehotelnic@gmail.com, Or click here to book online
---
Lobster Inn
Close to the dock where you arrive on the west side of the island, this clean hotel offers private rooms with bathroom and fan from $20 per night. Note that they do not generally take reservations. Just show up and check availability on arrival. Contact by phone on +505 8431 8575 or
8927 0710
---
Las Palmeras
Hotel Las Palmeras is situated in a village neighborhood about a 10 minute walk from the wharf, close to shops and restaurants. Rooms have fan and A/C, and they're just steps from the beach. Free WiFi 24/7. The hotel also has a Restaurant and Dive Center on-site, and they offer Dive & Stay packages. Rates for rooms start from $35. For more info, or to make a reservation, check their website or call +505 8650 6210
---
Economical beachfront cabins on the breezy east side of the island
---
Grace's Cool Spot
Backpacker favorite, Cool Spot, has festively colored cabins by the beach, mostly shared bathrooms but a couple with private facilities also. A great place to meet other travelers, and while away the day lazing in hammocks, snorkeling, and as it gets dark to savor a cold beer or bottle of rum. On-site restaurant produces local style food including fresh fish and lobster. Rooms from $17 per night. Accepts credit cards. Click here to book or contact by phone on +505 8617 0239.
---
Elsa's
Run by the charismatic Elsa herself, these bright yellow beachside cabins on the east side of the island. Rooms from $20 per night, some with private bathrooms, some shared. Also on-site is Elsa's kitchen for local style food. Contact by phone on +505 2575 5014
---
Carlito's Sunrise Paradise
Beach cabins on the east side of the island with a variety of accommodation options from one bed up to a two-bedroom cabin with self-contained kitchen and bathroom. Rooms start at $50 per night. Accepts credit cards. On the web Carlito's Place Little Corn. Or contact by phone: +505 8219 4091
---
Eco-Lodge Accommodations
---
Derek's Place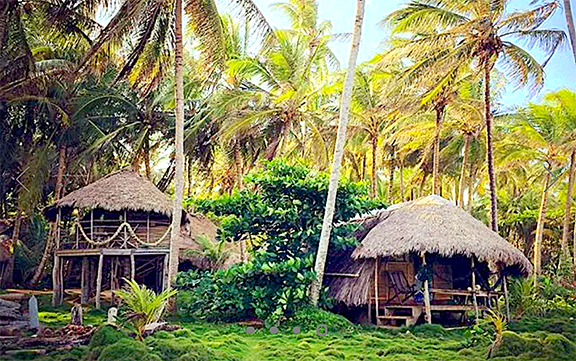 Derek and his wife Anna have created a unique hideaway at the north-east end of the island where wooden cabins sit among lush green grass leading to the beach. Home prepared meals in a communal dining area add to the family atmosphere where you'll also quickly make friends with Derek and Anna's two children who are keen to show you around their own little paradise. Rooms from $70 per night. For more information please visit their website.
---
Farm Peace Love
Run by Italian expat Paola and her local husband Bing, there are two cottages for rent at the north end of the island complete with kitchens. Prices are either $75 or $90 per night for the guest suite/cottage with weekly and monthly rates also available. Guests can also reserve dinners in advance, which as you might expect from the ownership mix provide an amazing blend of Italian and local tastes. Click on their website to book, or for more info: Farm Peace & Love
---
Ensuenos
Rustic eco-lodge with a garden of tropical fruits and veggies for guests to enjoy, and artistic cabins blending with Nature, Ensueños is a true Caribbean experience, and an excellent example of sustainable eco-tourism.
Ensueños also has an on-site, Mediterranean-Caribbean-fusion restaurant, and the food is as natural and fresh as it can get (by reservation only).
There is also a shared rustic wood fire kitchen for guests to use. No extra cost. Cabanas starting from 12$/night, (click here to book)
---
Dobedos
Rustic cabins in the woods, at the north end of the island located a 5 minute walk to the beach. Bunk room starts at $15 per night, private $40 and up. House and longer term rentals also an option, and kitchen available for use. Click here to visit their website for more info and booking
---
Island Hostels
---
Three Brother's Hostel
Right by the pier in the heart of town. It is run by the friendly and helpful Randy and Lucila who go out of their way to ensure you have a pleasant and safe stay at their place. Two large communal kitchens makes it a popular place for those on a budget, and also popular with those taking extended stays on the island. It's an island institution where cleanness and security are important with a relaxed vibe. Dorms from $8 and rooms from $10 per night with clean shared bathrooms. Click here to book, visit their website or call +505 8658 8736.
---
The Green House Hostel
This newish hostel features beds for $15 per night with individual fans, privacy curtain and power outlets. Large kitchen and close to bars and restaurants, located about 150m to the left of the dock. Click here to book. You can also contact on +505 8662 8821.
---
Shell Hostal
Run with true island flavor by
 Mr. Gomez, he has 3 rooms with shared bathroom, shared kitchen with fridge for $10/$15 per night. Well situated overlooking the coast on the west side of the island at the start of the path to the east side. Phone for availability on +505 8339 7776.
---
The Havana Libre Hostal
Next to the Cuban Restaurant just to the left of the wharf, these private rooms have either a double or double plus single bed with fans. Rooms from $35+ per night (accepts credit cards). Click here to book a room now or call: +505 8847 8813.
---
Others
---
"Closer to Home"

  Located about a 3-4 minute walk from the dock, on the way to LCBB, there are 8 cabins and on-site bar/restaurant. Small cabins have one queen size bed and private bathroom and verandas. Closed and currently for sale, call them for more details at: +505 8668 0017
---
Casa Iguana

Many past visitors are familiar with one of the first hotels on Little Corn. Sadly, Casa Iguana closed in 2017 due to long-term legal problems with non-payment of staff by the owner. It's unknown if or when it will re-open, and rumor is that it's up for sale.
---
Also, check AirBnB for guest houses and rooms for longer-term rent around the island