Little Corn Island Eating, Drinking, Dining, Cafes, Restaurants, Bars and More
In addition to the accommodations listed on the previous page, the island features quite a few cafes and restaurants! They offer a wide range of food styles at a range of budgets, not to mention street food, like hot fresh coconut bread, Pati's, Pico's etc, as well as cooking your own food if your accommodations have a kitchen (there are a number of small grocery shops around the island for purchasing ingredients).
We are lucky on Little Corn to have a great variety of eating options in such a small island!
Local beers are usually $1.5 to $2 and rum drinks typically about $3. There are happy hour deals available in some places with 2 for 1 specials not uncommon.
---
Tranquilo Cafe
Late Breakfasts, lunches, dinners, cocktails, and nightlife… This popular beachfront cafe specializes in great Burgers, Fish Tacos, Smoked BBQ and a lot more, including a number of Veggie and Vegan options. Fresh-brewed hot and iced gourmet coffees, delicious smoothies and shakes, and local tropical fruit juices. And you can finish your meal off with their handmade ice cream desserts. At night you'll find twice weekly bonfire parties, and live music cultural drumming nights as well as travelers swapping stories about their day over ice-cold beers and a wide range of tropical cocktails. Free WiFi. Open Mon-Sat 9:30am til late, happy hour 5-7pm. Snacks $3-$5, meals $5-$10. Visit Tranquilo Cafe's Facebook page
---
Turned Turtle Restaurant at Little Corn Island Beach and Bungalow
Located on Cocal beach, a short 13 minute walk from the village (follow the signs) one of Little Corn Island's and Nicaragua's most highly ranked restaurants) offers tasty breakfast from 7:30am to 10pm (starting at only $2.9), mouth watering lunches from 12 to 3pm (starting at only $4.9) and delicious, almost gourmet 4 course dinners from 5:30 to 8pm (starting at $9). Snacks start as low as $2 and are served from 11am to 4pm. Free WiFi for guests
Beautiful beach setting, isolated tropical island elegance, great service and fast service times combined with friendly helpful staff make this a popular dining and cocktail place for singles, couples, friends and families. The only place on the island with a kids menu also many vegetarian and some vegan offerings. Also serving semi famous Pina Coladas, huge Margaritas, frozen frappacinos and more. See reviews here.
---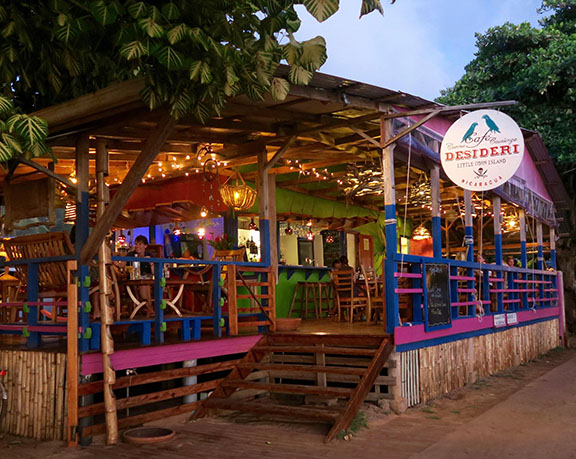 Cafe Desideri – Everything here is prepared with love, using fresh local produce and quality ingredients. They strive to use locally grown organic crops, much of which come from their own garden, locally caught fish, shrimps, and lobster. Dishes are prepared fresh, ranging from sandwiches, burritos, and salads, to Italian pizza, pasta dishes, and the house specialty (and very popular!), Lobster Thermidor. Offering fresh fruit smoothies and juices, a variety of brewed coffees, cocktails and wines. Located directly on the beach, you can spend the day in one of their hammocks or beach chairs.
Café Desideri also hosts live music nights throughout the season showcasing musicians from Nicaragua and from around the world, it all depends on whose passing through (if you're a musician and want to play a gig, just get in touch, they've also got the instruments.) Breakfasts $5-$6, meals $6-$18. Free WiFi
Check them out on FB @ Café Desideri
---
Los Delfines Balcony – 
On the west side of the island at the hotel of the same name, this bar/restaurant balcony overlooking the sea offers full menu as well as snack specials. Wi-fi available. Open Tues-Sun 11am til 10pm. Meals $5-$12
---
Fry Fish Bar – On the North End (Otto Beach), next to Yemaya Resort. Little Corn's newest dining addition. Outstanding local-owned place right on the beach, featuring Caribbean style seafood appetizers and entrees including Lobster, Shrimp, Whole Fish, Conch… Ice Cold beer and cocktails. Romantic location, island music. Immediately became a "must-try" place during any Little Corn visit, and a reason alone to add at least a day to your time on the island. Open till 8am to 6pm daily, closed Tuesdays. A nice plus is there is a snorkel gear rental shack a few feet away, and you can go right off the beach.
---
Miss Bridgett's – Set just back from the main village path, and very close to the dock, an island original that is a backpacker favorite due to its reputation as having the cheapest lobster meals on the island. And although the wait for food can be a bit long, you won't be disappointed with the huge meals of 2 or 3 lobster tails in garlic sauce. Also serves fresh fish and other items. Worth booking in advance though to try and cut down on that wait for food. She's also known for making a great Rundon seafood stew. Breakfasts from $3, meals $6-$10
---
Habana Libre – Run by a Cuban and his local wife, this long-established island restaurant serves good Cuban inspired food. Fresh seafood is particularly good here with a number of tasty sauce options, and typical Cuban dishes are available on request in advance. You can also enjoy real Cuban rum with your meal. Open for lunch and dinner (but check with them in advance, since their schedule is a bit erratic). Meals $8-$14
---
Mango's Pizza – Enjoy more than just pizza at this great little place overlooking the cliff on the west side of the island. Also serves breakfasts and fish and meat dishes in addition to their huge pizzas which are great for sharing. Will also deliver if you're feeling really feeling lazy after your dive or snorkel! $4-$10 Open Mon-Sat 7am-9pm.
---
The Shack – On the main path close to other restaurants and stores, The Shack offers reasonably priced snacks as well as full meals. The very helpful Rodcliffe will gladly cook meals to your own specification, which may appeal to vegetarians and those not wanting a huge meal. You can also arrange fishing trips here and Rodcliffe will cook your catch for you afterward.  Open every day from 6.30am, perfect for those who want to eat before their morning dive or fishing trip, open until 10pm. Breakfasts $4-$6, meals $5-$10.
---
Rosa's – The ever popular Rosa's Restaurant is situated in a clearing in the woods, halfway along the main path between the west side and the east side. Particularly popular is their $3 breakfast, complete with fruit bowl and coffee with a choice of pancakes, omelets and legendary french toast. At the time of writing also open for lunch and dinner on some days, but generally closed on Sundays. Meals $6-$9
---
Vista de Colores (Color View) – Next to Mango's pizza, they also offer pizza as well as a range of local dishes, including the island special Rundon, a coconut and seafood stew, which should be ordered in advance. Enjoy the small covered tables overlooking the sea on the main path on the west side of the island. Open Mon-Sat 7am to 9pm. Breakfasts $4, meals $6-$10
---
Happy Hut – Set in the woods just behind Tranquilo Cafe, Happy Hut plays local music and has recently opened up to the outside seating area. Open randomly it seems…. look out for special nights by speaking to the locals to find out what's happening! (As of July 2019 currently closed waiting for new management)